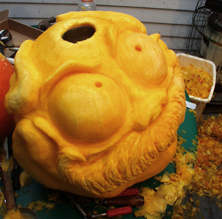 Cooperstown was a great time, certainly logistics could have made it better but it's was our first year and we learned many things to make next year even better. The adventure began Wednesday when I drove to Buffalo to get some pumpkins. I was great to visit with Farmer Awald and I picked up 2 fruits for $20. I got home napped and started working on Tippy that night. The next morning was spent running and by 11:30 and $190 later my passport forms were on their way. Got back to house after more errands. Began packing, laundry and making the signs. With everything in motion I set out to finish my first Grumpkin of the year Tippy Dinaro. He was done by 1:00am by then I had snapped all the razor blades for the new tools I had made. Sadly the creation of Tippy confirmed what I had feared my right arm will not be carving anything this year. No matter Tippy was just beautiful I went to bed. Morning came and Tom actually showed up and we loaded the now beautiful green carving spool. Great my tire has a nail in it and is going flat and my spare was killed by a nail through the sidewall just the week before. So with a pitstop at the Pennzoil for a plug in the tire I'm finally off to Cooperstown.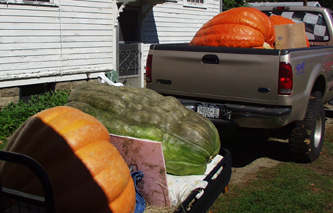 I arrive at Andy's in Allegany an hour later. He has 2300 lbs of pumpkins loaded in back of his truck and in a trailer. After a bit more chaos we are on the road. Other than losing them during a quick pee break that left me chasing them all the way to Binghamton the trip out was uneventful. We arrived at the Cooperstown Chamber of Commerce about 5:30 where I meet Polly the director and some of the founders of the New York State Giant Pumpkin Growers Association. Polly is throwing us a party at her house so we are off. We get there and my first task begins. Andy had a 470lb weird birdbath of a pumpkin with a rotten bottom brought in for me to carve the Pumpkin Fest logo into. Well at least he didn't stink to bad, though no one was volunteering to help clean him out. I got him up on the spool and finally had something to eat and got to meet and greet for a short time. I finished out the evening by midnight and the second pumpkin was done.

7:00am comes quickly and it's time to start on Tony. So in the cool of the morning I clean him out, harvest his seeds and plot his cracks and thickness. By 8:30 the boys has shown up and we load up to head down to Double Day Field. It's already chaos central as 1000's of pounds of pumpkins are arriving. I quickly ink the lettering on the greeting pumpkin and snag some guys to get Tony up on the spool so I can finally set up my area. SOn my little table I have Tippy Dinaro my MS donation Grumpkin. a Huge beautiful Mum given to me by Barbara and of course the remains of Billy Curmudgeon the 880lb wonder boy. At 9:15am I begin my performance. I noticed quite a different audience than I'm accustomed to definitely an older, smarter crowd. I meet fellow artists, sculptors and interesting people. People are fascinated by Billy and they stuffed dollars into Tippy. I'm unaware as my focus is on the pumpkin. Hours melt away, I finally get a bagel The creation though slowed by constant conversation progresses through the day. The weigh-off began and a parade of massive fruits head to the scales. I drool at thought of what I could do to that 1141lb pumpkin if I had week with him. It poured down rain to make things interesting. I just kept cutting, Tony was really starting to take shape and I felt the drive to continue. 4:00 came and went and it was all over.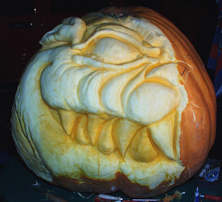 By 5:30 I was back set up at Polly's house and I continued for another hour till the rain chased me away. I had a bite to eat and a short nap then the rain finally ended. Beaten and exhausted I return to Tony as he is far behind schedule. I ponder for a moment just how insane I am and begin to shave away. Within an hour the second wind kicks in and I'm one with the Grumpkin. In the chill of the night the stars come out and I'm in the zone! Finally I pull myself away when I see that it's nearly Two in morning. 19 hours has passed since I woke. 13 hours spent with Tony.

I take a 5 hour nap and return he's still got 4-5 hours to go so I'm right back to work. Time melts away when your carving. Polly and Jim exit by 7:30am and I'm wondering where the crew is? I should be down on the waterfront by now. I'm not concerned, as it's time to drive every last ounce of energy I have left into finishing Tony. After another 4 hours straight It's 11:30. We go downtown to get some epoxy and find out where the hell the crew is. We get back and I give him a rub down in denatured alcohol and put on his eyeballs. It's nearly 1:00pm before he finally arrives down there damn missed 5 hours of fun. Well we will have it together next year. Once again I meet and greet shining my light brightly while looking like death warmed over. By 3:30 it's over and we begin to load up and move Tony to the Chamber of Commerce.

It was an excellent time I met many faces, and touched them all. My favorite was the blind man who felt Tony all over then shook my hand and told me he was beautiful. A half dozen people who had loved ones with MS thanked me for giving them hope, most lovely was Polly who truly expressed her amazement at what I have overcome to be the man I am today. I believe she will become my precious pal. Tippy in the end raised $121.58 and I hear he is still collecting loose change. I left by 5:00 for my drive down to Scranton where I spend 2 days in bed as the head cold I had been fighting for a week took it's toll.

Walk around Tony
Back to Tony
Back to the Gallery