Greetings Everyone,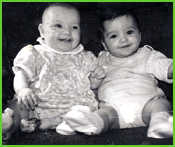 Here is a little tale of who I am and I how I got where I am today. I was born September 9th 1967 in Olean, NY, 4 minutes after my sister Patricia. I have been told that I had a rough ride as a baby, suffering from allergies and asthma. My mother fought hard for me.I owe her big time.

My father spent 26 years with Tenneco Gas so at that time we were born he labored at the compression facility. Natural gas doesn't just flow over a mountain, so all along the pipeline there were stations that pushed the gas. So my father, possessing the genius of generations of German engineers, rose in the ranks. We moved 3 times before my memory starts. Then the books came, I assume from my grandparents. 11 volumes of a science encyclopedia.I read them all. I was 8 years old and knew that I was an insomniac! I built many things. I remember my model of the solar system - it was great. Too bad it got wet in the Playhouse. Of course it didn't matter - it was time to move again.

Now we were in Troy, Pa. I had just turned nine. Uprooted and plunked down in another new environment. Here is where my memory gains more clarity. I had been busy in the library. I can only imagine what the librarians thought as I inhaled the 500 section.books on gears, hydraulics, electricity, magnetism. On through the 2nd grade I read. Father tended to enlist me for the constant repair projects that come with a new house. So I learned the trades - plumber, electrician, carpenter, engineer.

Then the wire incident.the moment it all changed. I created constantly and wanted to build electromagnets. To do that you need wire! I could see in my mind's eye - a small coil of leftover 25 pair phone wire sitting in the left back corner above the office where dad worked. So I asked Father on Monday if he would bring home the wire. I even had drawn up plans for an electromagnet-powered matchbox car launcher. I waited with anticipation. He came home with no wire. All week this went on until Thursday I decided I would get up and spy on dad while he got ready to go to work. The next day I put notes everywhere he went the previous morning.still no wire. Saturday dad said he was going to the plant so I rode along and got the wire myself. As I wound up my 25 pieces of wire I had an epiphany, a moment of clarity when suddenly it's all so clear. I had become self-aware, I was responsible and no long could rely on my parents to feed my mind. Voraciously I poured all my effort into my own intellectual pursuits and became driven to devour knowledge. My emotions were caged for the first time. I could write for hours about things I've built, adventures I had and knowledge I've acquired. Simply put I was a boy genius.
But it was time to move again.
Coudersport Pa., 11 miles out of town in a house 1/2 the size of the last one, in the middle of nowhere. There was Mike the kid down the road, but he was an asshole. So here we are in a dilapidated school system, I didn't even have a bedroom, I was stuck in the basement. I built beautiful things with Lego blocks. A Halloween robot costume wired with 11 different lights that turned on. It was magnificent. I won a prize. More experiments occurred when I got a room upstairs.
Lets see. yes it was about time again.
So off we move to Clymer, NY. Hot damn - at least I have a door, too bad I also have the door to Tom's room - I get the hallway room. From the middle of 8th grade through 11th grade.this is the longest stint yet, and the most interesting. Kids are cruel and I had endured that many times throughout school. The class size was only 38 less hillbillies. I enjoyed that one pretty well.

Eventually my oldest sister moved out and I got out of the hallway. Soldered together my first computer at 13 years. It had 1K of RAM. I figured out the test codes for the phone system and I could put a code in and ring my chemistry teacher's phone.I got probation for it. My probation officer and I spent each week discussing my latest inventions and endeavors. Made noises to annoy my siblings with my radio shack 101 electronic experiments kit. I built a Tesla Coil (A machine that makes lightning). Funny, I found out a decade later that I was knocking out the TV's 1111 feet around the house. So many stories it would take hours to tell them all. Had a few brief encounters with the warmth of another.
Then it was time, once again.
I moved away to spend my senior year plunged into the cruel chaos of the Amalgamated Hillabilly Conglomerate known as Mountain View High School. It had a student body nearly 5 times the size of the mere 38 students at Clymer. I was faced with starting all over again - something that had happened over and over during my tenure in schools. Needless to say I didn't have much enthusiasm. Oddly enough I got my first howdy Hi note from a girl named Debbie. We got to go out once, I may have got some kisses, but it took less than 2 weeks to be labelled too odd to prod and I received another note stating that peer pressure was too much to bear. A few months later I ran into one of my longest running precious pals. Jessica was the one that truly taught me the joy of a warmth of another. She and I enjoyed each other in so many ways and I'm in in such debt to her. Without her I may have never known what it was like to be truly cherished by and another person. now nearly 20 years later I still enjoy her company from afar. She is truly a precious pal.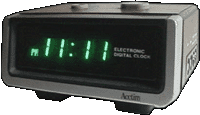 I had been showing the signs but I couldn't see them, so after a fun summer with my buddy Joanne we each went off to college. It was cold and cruel. I had virtually no friends there. Frankly after all I had been through I had given up. I lasted to near the end of the semester but then my tortured soul, wrapped in barbed wire and encased in cement, lashed out and the migraines began. They grew in intensity and in length till they went on for as many as 12 days at a time. I had snapped and had a nervous breakdown. Dad was relieved of his livelihood for reasons still unknown. We were moving again and that just added fuel to the fire.

Mother father and I moved away, the rest of the children stayed with their respective mates. I, on the other hand, was trapped at Grandma's in the middle of nowhere, so I began to construct the containment vessel in which to seal my emotions away. Once it was finished the migraines and the other problems disappeared. 18 months of work and The Machine Age had begun. The cracker safely contained, I siphoned off its energy and used it to fuel my creativity. Over the next 11 years I lived alone, isolated, introverted, insane. I fed my knowledge and constantly created. All the while my soul withered in its fortified, impregnable, fortress of solitude. During my college years I worked hard pouring endless hours in the Computer Graphics Lab and played a little. I met Jennifer vibrant and vivacious, still today an incredible best friend. College ended with but a single extracurricular adventure. Oddly enough it was with the Ex. A basketball game, a tour of the church where she lived, and a ride home.

With no focus I worked at my parents' Liquor Store and festered. I became a graphic artist at the local cable company. It was my first real job. I did amazing things with that ancient graphic system. Then came Kya, the first great catalyst in my life. She showed me, with kindness, the joy of emotion. I began to tear down the walls. I felt what it was to be in love for the first time. Of course I was screwed as she was married to an alcoholic twit by the name of Jim. I did not care as it was enthralling to spend time with her, and though I could not hug her I could rub her back. After eight years I felt the intoxicating joy of touching another again. At the same time I found Jennifer. For 4 years she was across the street the whole damn time. She has always been a good listener and was there for the torment I faced when Kya moved away.

My marriage was one of desperation after all I had been alone for so long. I made great effort to make my marriage work but the compatibility we shared was our respective loneliness at the time we meet. I'm not going to focus on the hardship, instead I choose to focus on the fun and enlightenment as can't deny that I had a hell of lot of fun with her nor can I deny that my total lack of self motivation lead to it's demise. I can't to be to hard on myself, as I did great things during my marriage, things that I would never had done without her motivation. So I thank her for that as I have learned so much from the experience, things I could never have discovered if I hadn't spent all those years with her.

I wont forget that birthday, September 8th, my wife was leaving, the 11th the terrorist attacks and on the 12th I found out I'm diabetic. I have certainly had better weeks. She had separated herself from me completely and by November she was gone. I had moved again without even leaving. You see I was your classic nerd who lived with my parents till I was thirty, now for the first time in my life I lived alone. It was a rough couple of weeks with my depression consuming me. Until a December evening in my cold, empty, silent house. I was sitting on the couch, desperate for conversation, and I had a moment of serendipity. Laticia pops into my head. I look on the internet and she is the only one listed in all of California. More amazing as I find out later She's home! I constantly remind myself of where I was, broken, exhausted, defeated. How could I have possibly imagined I would visit my old friend and be on the shores of the Pacific just 4 months later. I left there a person permanently altered by the experience. Top of the world doesn't come close, more like in orbit. How could I know what terror awaited me.

The problem with being on top is it's a very long fall to the bottom, and when I hit bottom I shattered. Chico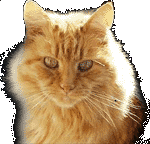 , my faithful feline companion for 15 years, had died while I was gone. Laticia had been assisting at chipping away at the dam that held all my repressed emotions. Chico knew and flew a 747 full of bowling balls right into the base of the dam. Looking back, though, I smile. I experienced death for the first time, and know first hand

what that's like. I expressed more carnal emotion in one week than in my entire life and it didn't stop with Chico. It continued on as the reservoir drained.so many things to cry for, so much pain, it continued for 10 days.

In my time of crisis I turned to the person who had comforted more than anyone else I ever knew, Laticia. Of course she had just had her fill of me and that only exacerbated the tension. She had given so much to me and here I was asking for more. She snapped, for good reason, but I didn't handle it well and then she was gone. It took a year to heal, but she is once again a priceless friend.

Shredded once again with the death of Chico, the loss of Laticia, and being taken out of my house and having to work down at the office I once again was hopeless. Once again at that moment how could I know that I would be canoeing at 3:00am on a lake in Oregon with my old friend Kya, amazed at the number of stars, just 5 months later.

In February of 2002 I was tested again when Multiple Sclerosis appeared and took the use of my right arm. Months of tests, endless waiting, the dulling of my brilliance, the loss of work. Finally treatment. The problem the I'm far from normal medically as well and so far 2 years of treatment has failed in some cases catastrophically. All the steroids, beta interferons and anti-epileptic medications they have tried on me have been met with little success or I reacted most violently. Almost 2 years later, I am faced with the fact that the only cure for MS is happiness, and enjoying the company of others.

Now a note to all you creative artistic women out there. Don't be afraid to say say hi. Today I see that I am the sum total of my experience and all of my past doesn't matter. I used to fret endlessly about how far I had to go, then I looked behind me and realized that I should be proud for how far I have come. I no longer concern myself with where I am upon the path, what does matter is that I'm moving forward and enjoying the journey.





Thanks for listening,

Read "The rise of Twitchy" my tale of MS

Home

About Me

Gallery of Grumpkins

Appearances

F.A.Q.

Links

Contact me